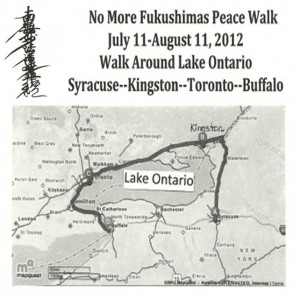 The triple meltdown at Fukushima, which has driven tens of thousands of Japanese from their homes, and cast radioactive fallout across the US, will likely cost the Japanese economy $623 billion. It has been proven time and time again that humans do not have the capability to control the long-term effects of nuclear power from uranium mining to power production and radioactive waste.  Nuclear power is not sustainable from environmental, human rights or economic standpoints.
Lake Ontario is sacred to the First Nation people of US and Canada and yet it is being highly contaminated by 13 nuclear reactors on the Canadian side and 4 reactors on the US side (and the US government wants to build two more).  Native people have disproportionately high cancer rates due to higher exposure from nuclear radiation created by nuclear waste dumping and uranium mining on Native lands.
We walk together in love and solidarity for a nuclear free future. A more just, sustainable, and compassionate world built on respect for all living beings and for the earth that sustains us is possible now more than ever. Please join us to help make it a reality.
Walk initiated by Nipponzan Myohoji, Grafton Peace Pagoda and supported by:
Mayors For Peace, Sierra Club Ontario Chapter, Greenpeace Quebec Chapter, Syracuse Peace Council, Quaker Friends Meeting, Alliance for Green Economy, Indigenous Women's Initiatives, Riverside-Salem United Church of Christ/Disciples of Christ, First Unitarian Congregation,  Seneca Tribal Nations Cattaraugus Creek Watershed Task Force, Peace Action of Central New York
Please join us by walking for an hour, a day, or for the entirety.  You can support us by organizing a community potluck, a sharing circle, a visit to your mayor, a place for our walkers to sleep, or coverage by the local media.  Also, please keep this walk in your thoughts and prayers.  Our walk is drug, alcohol, and weapons free.
For more information contact:
Before the walk: Grafton Peace Pagoda 518-658-9301,  or Christian 413-320-2856 or cheythiya@gmail.com
During the walk:  Hannah  781-472-9676 , hm291952@albany.edu
 
Peace Walk Itinerary
July 11 – (Wednesday) Stay at Onondaga Nation
July 12 –(Thursday) Onondaga to Syracuse, NY, Hancock Air force (11 miles)
July 13 – (Friday) Syracuse, NY to Baldwinsville, NY (13 miles)
July 14 – (Saturday)  Fulton to Oswego (10 miles), Oswego to Nine Mile Point Nuclear Power Plant (4.9 Miles)
July 15 – (Sunday) Oswego Nine Mile Point Nuclear Power Plant to Mexico Point State Park Mexico, NY (11.6 miles)
July 16 – (Monday)  Pulaski – Wardwell (14.8 miles) (Stay in Adams)
July 17 – (Tuesday) Adams to Watertown (13.6 miles)
July 18 – (Wednesday) Watertown, NY – La Fargeville (17.5 Miles) (stay in Watertown)
July 19 – (Thursday) Cross border to Canada – Border – Waterfront Trail -  Gananoque – Ontario, Canada (17.8 km=9.6 miles)
July 20 – (Friday) Rest Day, Gananoque
July 21 – (Saturday) Gananoque to Kingston, Uranium Mining Site (21.7 km = 13.2 miles)
July 22 – (Sunday) Kingston to Bath  (26.2 Km = 15 miles)
July 23 – (Monday) Napanee to Deseronto (10.4 km  = 6 miles)
July 24 – (Tuesday) Deseronto to Belleville (36.6 km = 22 miles)
July 25– (Wednesday) Belleville to Trenton (17.8 km = 11 miles)
July 26 – (Thursday) Trenton to Colborne (27.7 Km = 18 miles)
July 27 – (Friday) Grafton – Port Hope Cameco Fuel Manufacturing – Uranium Fuel Production Site (23.7 km=16 miles)
July 28 – (Saturday) Port Hope to Darlington Nuclear Power Plant (stay in Bowmanville) (36.9  Km=23 miles)
July 29 – (Sunday) Bowmanville to Oshawa (15.1 km= 9.6miles)
July 30 – (Monday) Oshawa to Pickering Nuclear Power Plant  (20.6 km  = 12 miles)
July 31 – (Tuesday) Pickering to Ashbridge Bay Park Toronto via Kingston Rd Rt.  (28 km = 18 Miles)
August 1 – (Wednesday) Rest Day Toronto
August 2 – (Thursday) Toronto  to Mississauga  (25 Km = 15 miles)
August 3 –  (Friday) Mississauga to Burlington  (37.4 km = 22.4 miles)
August 4 – (Saturday) Burlington to Hamilton (15.8 km = 10 miles)
August 5 – (Sunday) Hamilton to Grimsby Beach (32.9 km = 20 miles )
August 6 – (Monday) Grimsby Beach to St. Catherines (25 km = 15 miles )
August 7 – (Tuesday) St. Catherines to Rainbow Bridge, Cross the border to United States (20.8 Km=12 miles) to Tuscarora Nation NY (Niagara Falls 9.4 miles)
August 8 – (Wednesday) Tuscarora to Grand Island (13 miles )
August 9 -  (Thursday) Grand Island to Delaware Park – (16 miles) Buffalo, Nagasaki Day Ceremony
August 10  (Friday) Buffalo to Grafton Peace Pagoda, Grafton, NY (6 hr drive )
August 11 (Saturday) Hiroshima Day Ceremony  – Grafton Peace Pagoda
**** This schedule is subject to change.  Please check with the contacts listed  for any changes and/or for daily start and finish locations