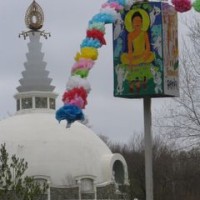 Na Mu Myo Ho Ren Ge Kyo
Grafton Peace Pagoda
Flower Festival
Celebrating the Birth of the Buddha
And a Mother's Day Celebration
Sunday May 10, 2015 at 11:00AM
Join us in celebrating Buddha's Birth in this world and in reawakening our
belief in humanity's noble, spiritual
purpose on this earth.
Traditional Buddhist Ceremony
Interfaith Prayers
Speaker:
Mark Johnson Sharing stories of the NPT Walk
Music and Dance
Pot Luck Lunch
(Everyone welcome to bring a dish to share.  Vegetarian options preferred.)
Nipponzan Myohoji, Grafton Peace Pagoda
87 Crandall Road, Petersburgh, NY 12138
For information call (518) 658-9301 between 8 AM and 5 PM
Read More...