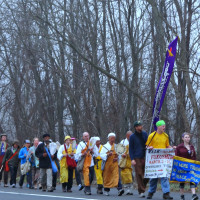 The 2015 NPT Peace Walk For A Nuclear Free Future
For Peace and the Planet, From San Francisco to the United Nations, NYC
Friday March 20th to Sunday Apr 26th, 2015
2015 marks 70 years since the atomic bombings of Hiroshima and Nagasaki. We must never let such disasters happen again. Carrying this urgent prayer, we will walk to the Nuclear Non-Proliferation Treaty Review Conference at the United Nations in New York City. On the way we will pass through Native Americans lands, where people continue to suffer from all stages of the nuclear cycle. We will carry a prayer and a pledge that, in keeping with the wisdom of Indigenous people, we will create a sustainable society where we can live in harmony with Mother Earth. Our peace walkers from Japan will report on situation of the ongoing Fukushima nuclear power plant disaster, from which we must conclude that there can be no "peaceful use of nuclear technology."
Nuclear Non-Proliferation Treaty (NPT): The treaty's objective is to prevent the spread of nuclear weapons and weapons technology. Since its implementation in 1970, the review conference has been held every five years. Although NPT Article VI mandates that nuclear states commence negotiations for total elimination of nuclear weapons, the NPT is barely effective due to the lack commitment of the signatories, and the fact that NPT endorses "Peaceful use of Nuclear Technology." We, the grass-roots groups, need to urge the nuclear powers to acknowledge that the "nuclear issue is not only about national security but about the survival of Mother Earth and human beings." We must urge them: "Do not move backwards, take action for a nuclear free future!"
Lawrence Livermore Nuclear Laboratory: Located east of San Francisco. The laboratory focused on innovative weapon design concepts, such as plutonium and H-bombs. Pacific Islanders are still suffering today from H-bombs tests conducted by the Nuclear Powers.
Diablo Canyon Nuclear Power Plant: Located in Central California. The last nuclear power plant on the West Coast of North America. The power plant stands on the sacred sites of the Chumash Tribe.
Nevada Test Site: The largest nuclear test site on the globe. From 1951to1992, a total of 928 nuclear tests (both atmospheric and underground) took place at the Nevada Test Site, the lands of the Western Shoshone tribe. Radioactive fallout has is creating downwind sicknesses even today. We will walk to Yucca Mountain Nuclear Waste Repository. The Yucca Mountain project was once abandoned but might be re-opened.
Big Mountain: Located in Central Arizona. Navajo tribe living at Big Mountain, a part of Black Mesa, an area rich in natural resources including uranium, coal and natural gas, have been forcefully removed. Since the federal government ordered partition of their land and assigned it to the Hopi tribe. The mining companies and the Hopi tribal council have persecuted Navajo tribes. The late Junji Shumanuki Shonin's life practice was here.
West Valley: In the suburbs of Buffalo, NY there are massive amounts of radioactive nuclear waste is buried in West Valley has been a great threat to lives and land of the Seneca Nation.
Knolls Atomic Power Laboratory: Located outside of Albany, NY. The laboratory has been conducting research & development for the production of nuclear submarines.
Indian Point Power Plant: This aging nuclear power plant is located within less than 50 miles of Manhattan. IP 2's original 40-year operating license expired in 2013 and IP 3 will be expire in 2015.
No drugs, alcohol, or weapons.
We will typically walk 12-18 miles per day.
Contact: Jun Yasuda
Nipponzan Myohoji Grafton Peace Pagoda
87 Crandall Rd. Petersburg, NY 12138
Phone: 518-658-9301
Jules Orkin
Phone 201-566-8403
Email: Julesorkin@yahoo.com
2015 NPT Walk for a Nuclear Free Future
From San Francisco to the UN (NY)
Date Point of Departure Destination
Day 1 & 2 3/18 & 19 Wed & Thu Arrival of walkers in Bay Area
Day 3 3/20 Fri Richmond to Berkeley/Oakland
Day 4 3/21 Sat San Francisco (Walk in the city, including the Consulate General of Japan.)
Day 5 3/22 Sun Oakland to Hayward
Day 6 3/23 Mon Hayward to Dublin
Day 7 3/24 Tue Dublin to Lawrence Livermore Nuclear Laboratory
Day 8 3/25 Wed Hayward to San Luis Obispo (Shuttle)
Day 9 3/26 Thu Diablo Canyon Nuclear Power Plant to San Luis Obispo, CA
Day 10 3/27 Fri San Luis Obispo to Los Angeles (Shuttle)
Day 11 3/28 Sat Los Angeles (Stay at Nipponzan Myohoji, LA Dojo)
Day 12 3/29 Sun Los Angeles to Las Vegas, NV (Bus)
Day 13 3/30 Mon Las Vegas – Join the walk "Nevada Desert Experiences"
Day 14 3/31 Tue Walking in the desert
Day 15 4/1 Wed Creech Drone Station
Day 16 4/2 Thu Nevada Test Site
Day 17 4/3 Fri Yucca Mt. Nuclear Waste Repository
Day 18 4/4 Sat Las Vegas, NV to Flagstaff, AZ (Bus)
Day 19 4/5 Sun Flagstaff (Walk)
Day 20 4/6 Mon Cameron (Abandoned Uranium Mines)
Day 21 4/7 Tue Havasupai Tribe?
Day 22 4/8 Wed Big Mountain
Day 23 4/9 Thu Flagstaff, AZ to Buffalo, NY (Night Flight /Bus)
Day 24 4/10 Fri Arrive Buffalo, NY
Day 25 4/11 Sat Walk Buffalo, NY to Hamburg
Day 26 4/12 Sun Walk 15 miles from Hamburg toward West Valley
Day 27 4/13 Mon Walk 15 miles between Hamburg and West Valley
Day 28 4/14 Tue West Valley Nuclear Waste Site
Day 29 4/15 Wed Walk around Cattaraugus Seneca Nation
Day 30 4/16 Thu Buffalo to Albany-Grafton Peace Pagoda (Amtrak or shuttle)
Day 31 4/17 Fri Grafton Peace Pagoda to Troy
Day 32 4/18 Sat North Central Troy to Saratoga Springs Peace Vigil – Ballston Spa
Day 33 4/19 Sun Ballston Spa to Knolls Atomic Power Laboratory (Niskayuna)
Day 34 4/20 Mon Walk from Schenectady to Albany
Day 35 4/21 Tue Shuttle from Albany to Stony Point, Walk from Stony Point to Vigil in front of Indian Point Nuclear Power Plant on west side of Hudson River
Day 36 4/22 Wed "Earth Day" Walk from Peekskill to Indian Point, Walk from Indian Point to Croton on Hudson
Day 37 4/23 Thu Stony Point to Nyack
Day 38 4/24 Fri Nyack to Englewood, NJ
Day 39 4/25 Sat Englewood to Fort Lee (Joining with 2 other courses) walk over GW Bridge
Day 40 4/26 Sun United Nations (NY City)
Day 41 4/27 Mon NPT Review Conference NPT (Prayer and Fasting)
Read More...