72nd Commemoration Ceremony of Hiroshima-Nagasaki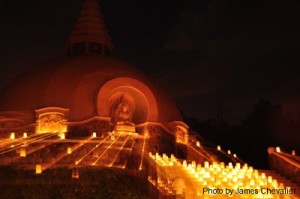 72nd Commemoration Ceremony of Hiroshima-Nagasaki
Grafton Peace Pagoda
Saturday August 5th, 2017
Na Mu Myo Ho Ren Ge Kyo
As we gather today to commemorate the anniversary of the bombings in Hiroshima and Nagasaki the new US administration is calling for a massive increase in the military budget, is escalating war in Syria, has deployed the largest non-nuclear bomb in history in Afghanistan and is recklessly engaging in increasing militaristic confrontations with North Korea. This administration is reviving the global nuclear arms race and planning to spend over $1 trillion to modernize its nuclear arsenal. All this when the US is only one of nine countries in the world that possesses nuclear weapons. We are calling on the US to join the majority of the world's people in standing for the abolition of all nuclear weapons. This will be the beginning of restoring our vision to see the preciousness of all life and the protection of the planet.
6:30pm walk from Grafton Town Square to Peace Pagoda (4.3 miles)
8:00 Program of Peace
Words from People of the Waters That are Never Still (Mohican Nation): Bonney Hartley
Ceremonial lighting of Lanterns
Speaker: Miyako Taguchi, Second Generation Survivor from Nagasaki
Interfaith Prayer
Native American Flute: Eric Marczak
Poem Offering: Christian Caulfield
Rain or shine. Please wear weather-appropriate clothes and bring a flashlight and insect repellant. You may also want a blanket.
For information call the Grafton Peace Pagoda between 8am and 4pm (518) 658-9301
Leading up to this ceremony:
Water Walk for Life, July 22-August 5, 2017
13 days, 170 mile walk from Ramapough NJ to Grafton NY