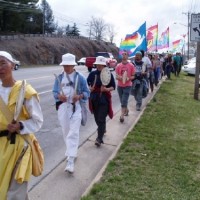 New Years Day Peace Walk
Save the planet. No more war.
Monday January 1, 2017, at 11am
Coming from Ballston Spa to Saratoga Springs, we will be meeting on Rt. 50 at the Stewarts, and will be walking 5.6 miles to downtown Saratoga where we will be holding a peace vigil. After the vigil, there will be a New Years Day tea party nearby. Everyone is welcome. 
For more information:
Grafton Peace Pagoda 518-658-9301 (7:30am and 4pm) until July 20th
George at 646-784-7616 or email gchojr@mac.com
During the walk you can call Jules at 201-566-8403
Read More...